News
Consolidated Mutual Water Company goes live with Sprypoint
January 31 - August 31, 2023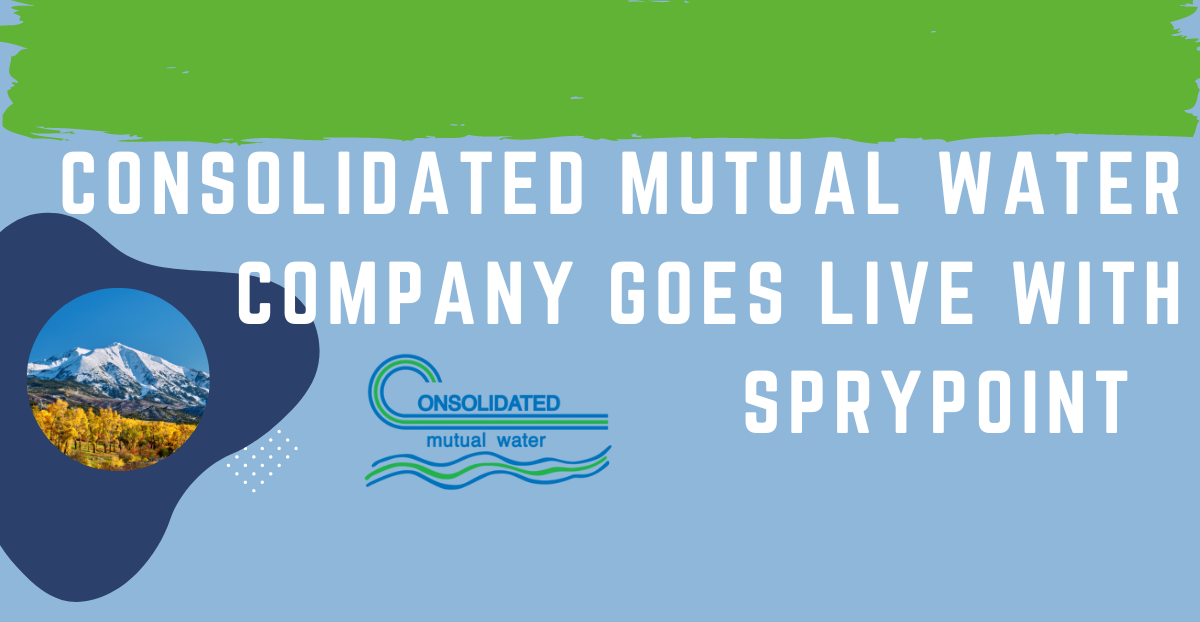 Consolidated Mutual Water Company (CMWC) partnered with Sprypoint, a leading provider of technology solutions and services in the Utility industry, to implement their advanced products, SpryCIS and SpryMobile. CMWC, a privately-owned non-profit water company, serves a population of approximately 100,000 people across a service area of 27 square miles, encompassing Lakewood, Wheat Ridge, and unincorporated Jefferson County, Colorado. After an extensive evaluation process conducted throughout 2021 in collaboration with Validos, CMWC made the strategic decision to replace their long-standing solution, BillMaster, with SpryCIS and SpryMobile.
The project began on January 29, 2022 and the solutions went live in just 10 short months on December 12, 2022. The scope included the replacement of their billing system, moving from paper service orders to a mobile solution, and replacement of their payment provider and customer portal. SpryCIS seamlessly integrates with four different systems in real-time and two additional systems through file transfers, further enhancing CMWC's operational capabilities and data management efficiency. Completing a project of this scope with real-time integration and full data conversion with the ability to decommission legacy systems in such a tight timeframe is an exceptional achievement. This successful collaboration between CMWC, Validos, and Sprypoint has not only transformed CMWC's technology infrastructure but has also positioned them as a model for other utilities facing similar challenges.
"The recent implementation of SpryCIS and SpryMobile enabled the operational efficiencies I envisioned when I joined CMWC. On top of that, we were also able to meet our internal business goal of a successful go-live within a remarkable 10-month timeframe. Our unwavering commitment to delivering exceptional customer service can reach a new level, thanks to the outstanding collaboration between the dedicated CMWC and Validos teams along with the support provided by the Sprypoint team both during and after go-live, and the continuous introduction of new functionalities within our new solutions that keep us at the forefront of innovation. The combined efforts of the CMWC, Sprypoint, and Validos teams have made a significant impact on our operations, empowering us to provide first-class customer service and drive our business forward with confidence." – Sudan Muhammad, Business Services Manager
About Sprypoint:
Founded in 2011, SpryPoint is a leading provider of cloud-based solutions for the utility sector. Our team of experts has extensive experience serving utilities across North America, and we are dedicated to helping our clients improve their operations and better serve their customers. Our solutions include advanced billing and customer relationship management tools, as well as powerful analytics and data management capabilities. We are proud to have been recognized by industry experts and our clients alike for the value and innovation we bring to the market.
About Validos:
Validos is a privately owned women-owned business established in 2018. Founded by 3 partners in an effort to better serve the industry they have dedicated their careers to serving. Their mission is to leverage technology we all use in our everyday lives to streamline the buying/selling and networking process to ultimately reduce costs for all and save the rate payer.
Validos.com is the first technology platform of its kind, a moderated 2-sided B2B technology, designed specifically for Utilities and the technology and service providers to streamline their ability to connect and collaborate with peers, find out what is happening in the industry, research and compare products and services.

Consolidated Mutual Water Company
Information
Listing provided by Validos