Listing Details
Northwest Public Power Association (NWPPA) ENGINEERING & OPERATIONS CONFERENCE AND TRADE SHOW
April 04, 2023 • 407 N Virginia St, Reno, NV 89501, USA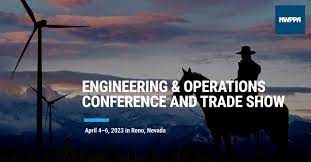 The strength of public power comes from our powerful connections with our communities and one another, our willingness to adapt and explore new technologies, and our depth of industry knowledge. At the E&O, we are able to foster each of those strengths. Each year, the E&O brings together attendees from across the Greater Pacific Northwest and beyond, offering a unique opportunity to meet and network with public power professionals in every discipline. Together, we are our best resource for sharing experiences and tools to improve the way we support our utilities and customers. The E&O has something for everyone, whether you are a new employee or a seasoned professional. Networking starts before conference kickoff with the pre-conference Environmental Task Force Meeting and the Engineering, Operations, and Supply Chain roundtables. The industry roundtables are a favorite each year with attendees asking questions, sharing solutions, and building camaraderie. The conference will officially start off with keynote speaker Jake Wood, a former Marine. Wood embodies the idea of the next frontier. He organized a team of veterans and cofounded Team Rubicon, the fastest growing disaster response organization in the world. He is also the founder and CEO of Groundswell, a startup that builds bridges between companies and nonprofits. His keynote promises to be a compelling exploration of leadership and organizational culture. In total, the E&O Planning Committee has carefully selected 24 educational sessions that cover highinterest projects, new technologies, and lessons learned. Additional general sessions to look forward to include the ever-popular CEO/GM panel session and a hot topic panel on the fundamentals of wildfire mitigation plans. This year's CEO/GM panel will address the difficult issues and exciting opportunities affecting our industry, while the wildfire mitigation panel will feature the perspectives of five public power utility panelists from four different states. Another highlight of the conference is the nearly 200 industry-specific vendors who bring their expertise and products to the E&O Trade Show floor each year. These vendors are subject matter experts for utility projects, equipment needs, new tools, and innovative technologies. The trade show will be open at multiple points throughout the week, and we encourage E&O attendees to take advantage of this unique opportunity to see the latest and best products and services all in one place.
LOCATION

407 N Virginia St, Reno, NV 89501, USA
Listing provided by Validos
Attendance
Representative from 0 organizations plan to attend this event.
To learn more information about them and more,